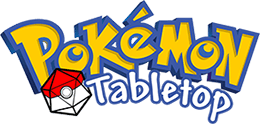 →

Portal
Welcome to Pokemon Tabletop. We hope you enjoy your visit.


You're currently viewing our forum as a guest. This means you are limited to certain areas of the board and there are some features you can't use. If you join our community, you'll be able to access member-only sections, and use many member-only features such as customizing your profile, sending personal messages, and voting in polls. Registration is simple, fast, and completely free.


Join our community!


If you're already a member please log in to your account to access all of our features:


IRC Channels
Want to chat and hang out with other Pokemon Tabletop fans? Check out our
Discord server
!
We also have an IRC channel at
#PokemonTabletop @ Rizon
(irc.rizon.net)
Need to get on IRC, but don't know how?
Check this thread out!
Pokemon: Tabletop Adventures - Updates List
Updates.
February 16, 2018 - Pokemon: Tabletop Adventures (final)
April 27th, 2015 - ORAS Update
June 27th, 2014 - XY Update
Pokemon: Tabletop United - Updates List
February 23, 2015 - PTU 1.05
February 16, 2014 - PTU 1.04
October 7, 2013 - PTU 1.03
Board Statistics
Total Forum Posts:
207,400
Total Members:
8,047
(The newest member is
tri2attack
)
Jan 14 2014, 02:54 PM
, a record
226
users were online.
| | | |
| --- | --- | --- |
| | | 6:37 PM Feb 19 |
Pokéball
created by Sarah & Delirium of the
ZNR